There is a list of Afterglows/Hospitality-Rooms for the MAD.
If you are planning/hosting an afterglow at a MAD convention, you can add it to our list.
If you are looking for an afterglow at a MAD convention, you can find it here:
---
District Qualifiers
Here are the qualifying competitors for the 2016 Fall Convention, Sept 16-18:
Choruses (22 plus mic testers)


Alexandria, VA Bye

Hell's Kitchen, NY Bye
Hershey, PA Bye
Hamilton Square, NJ
Caldwell, NJ 78.2
Dundalk, MD 77.8
Princeton, NJ 76.0
Philadelphia, PA 74.9
Queen Anne's County, MD 73.8
Lansdale PA 73.5
Cherry Hill, NJ 73.3
Westchester, NY 71.9
Anne Arundel, MD 71.8
Five Towns College, NY 70.4
Montclair, NJ 69.4
Bryn Mawr, PA 69.2
Loudoun County, VA 69.0
Harrisburg, PA 68.1
Frederick, MD 67.0
Bucks County, PA 67.0
Fairfax, VA 66.3
Harford County, MD 66.2
District of Columbia 65.0
MT: Lancaster Red Rose, PA

*****************************************************
Roanoke Valley, VA 64.9
Lancaster Red Rose, PA 64.8
Hunterdon County, NJ 64.5
Lewisburg, PA 64.3
Ocean County, NJ 64.0
Patapsco Valley, MD 63.8
Milford, DE 62.3
Somerset Hills, NJ 61.8
Teaneck NJ 61.3
Red Bank Area, NJ 60.9
Wilkes Barre, PA 60.2
Morris County, NJ 59.2
Smith Mtn Lake, VA 54.3
Wilmington, DE 50.8
Quartets (25 plus mic testers)
1. DaCapo Bye
2. Gimme Four Bye
3. Up All Night Bye
4. The Bourbon Street Four 80.0 *
Students of the Game 76.9 (declined offer to compete)
5. Forecast 75.2 *
6. Brothers in Arms 75.1 *
7. Pratt Street Power 74.8
8. The Fource 73.9
9. Hershey Transit Co. 73.3
10. Spruce Street 72.6
11. Party of Five 72.4
12. Achording To Dad 72.1
13. Hudson Line 71.8
14. 29 Seconds 71.7
Niko's Domain 71.3 (declined offer to compete)
15. LoCo 4 71.0
16. Youth Reclamation Project 69.9
17. Loudmouth 69.8
18. Break From Blue Collar 68.3
19. New Kid In Town 68.1
20. My Uncle Murray 68.8
Riverline 68.4
21. Hello Newman 68.2
22. Handsome Reward 67.7
23. Sounds Dangerous 67.6
24. Flash Point 67.3
25. Distinction 67.0
MT: Route 1
************************************************
For The Times 66.9
Razzmatazz 66.9
Desperate Measures 66.8
THE SCHOOL BOARD 66.8
Ear Candy 66.4
Oasis 66.1
The Corner Four 65.8
Atlantic Harmonies 65.3
Susquehanna Flats 64.9
Cross Keys Connection 64.6
Misfire 64.6
For Stories 64.2
Eastern Shore Harmony 64.2
Men Over Chord 64.0
Voice Odyssey 63.3
Backswing 62.9
Director's Blend 61.4
Lansdale Station 61.3
Somethin' Else 61.2
Acapello Parmesan 61.2
Cool Water 61.1
Bazinga 61.1
Splash of Lime 60.0
Unaccounted Four 59.4
Vintage Mix 59.2
Sunny4cast 58.9
Four Fingered Harmony Punch 58.4
Allaboard 57.9
Bay Bridge Connection 56.3
Sound Renovation 54.6

---
BEST SEAT IN THE HOUSE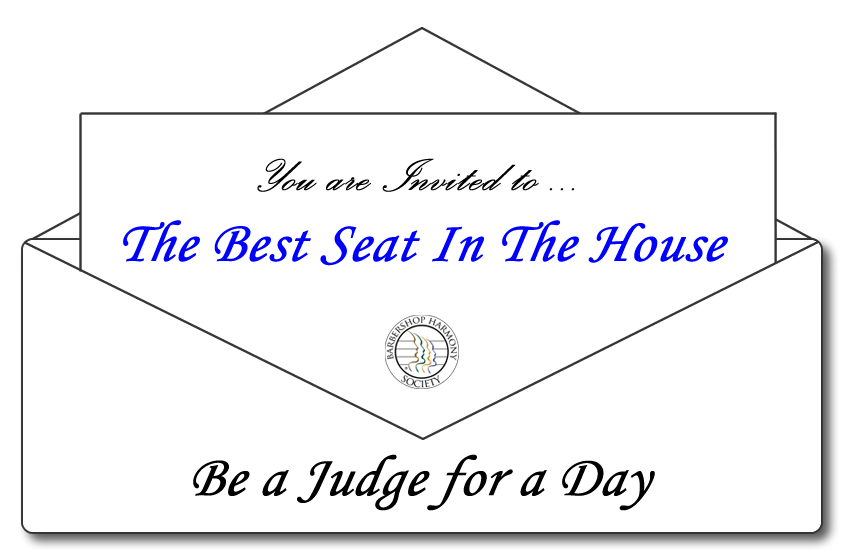 Have you ever wanted to sit up front with the judges?
Again this year, we are auctioning the Best Seat in the House.
You can bid on a seat in the judges pit for any one of of the Spring contests.
Watch this video of KJ's explaining the Best Seat in the House project.
Find out more about bidding for the Best Seat in the House.


---
---
2016 DISTRICT CONVENTION
!!! DATE CHANGE !!!
This message is to inform you of a change to the date of the 2016 Mid-Atlantic District Fall Convention.

The Mid Atlantic District Events Team recently posted the 2016 District Fall Convention date as October 21-22, 2016. Further review reveals that date conflicts with the Sweet Adelines International (SAI) Convention.

The M-AD Board of Directors understands there are many people in our District that participate in SAI. Therefore having the 2016 Mid-Atlantic District Fall Convention on October 21-22, 2016 would present a hardship for chapters and families.

Therefore the M-AD Board of Directors authorized a change to the date of our 2016 Mid-Atlantic District Fall Convention to September 16-17, 2016. The Board action was required because the M-AD Fall Convention Regulation states the District Convention "should be held no earlier than the last weekend in September and no later than the last weekend in October." The new date selection was based on the limited availability of dates at venues suitable to hold the District Convention.

The Events Team was able to secure the Lancaster Convention Center and the Lancaster Marriott Hotel for our 2016 Fall District Convention. The Lancaster Convention Center and Marriott Hotel is a wonderful venue and it suits our event well. We have been there in the past and I am sure our District members and families will have a wonderful convention in Lancaster.

Please be sure to make note of the 2016 convention date change to September 16-17, 2016 and the location to Lancaster. PA. The Events Team apologizes for any inconvenience this change may cause to our District members.


In Harmony,
Dennis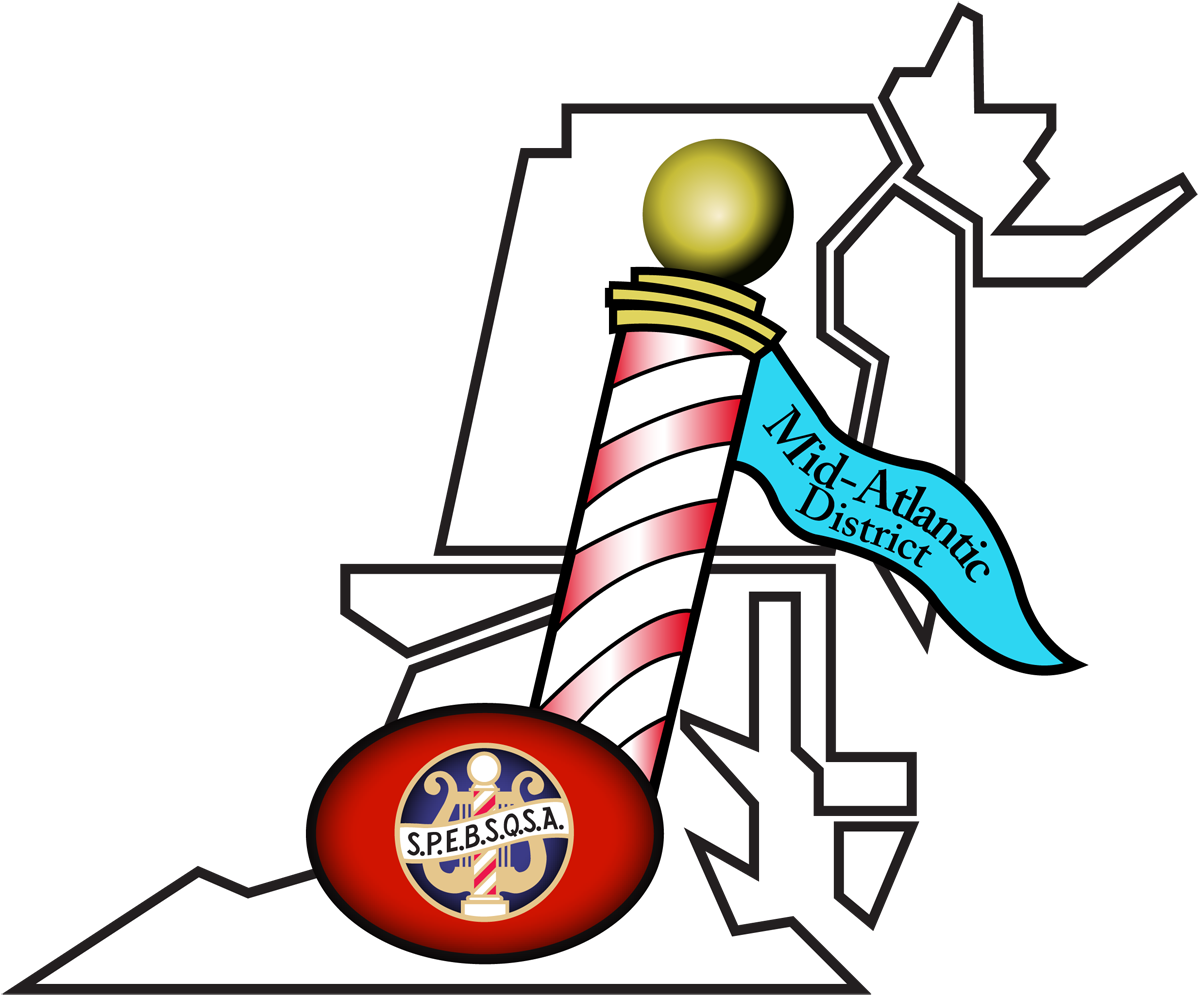 Dennis Ritchey
Executive Vice President
Mid-Atlantic District
Barbershop Harmony Society

---
---
2016 Convention Information
---
Click here to Purchase Convention Tickets

See the YOUTH IN HARMONY ADJUDICATIONS page for the Adjudication forms.

Spring Convention & Youth Adjudication / Prelims early-bird expiration: Mar 15th
Northern Division early-bird expiration: May 3rd
Central Division early-bird expiration: Apr 13th
Southern Division early-bird expiration: Apr 27th
Fall District early-bird expiration is: Aug 16th

There will be no webcast this Fall.

---
---

CONVENTION MATRIX


Chorus Evaluations (20 minutes per category) at all Contests are COACHING Sessions.
ALL CHORUS MEMBERS are expected to participate.
Afterwards, competitors will receive a feedback-form to evaluate coaching effectiveness and
give recommendations for improving the C&J portion of our conventions.


---